Female Friendly Accreditation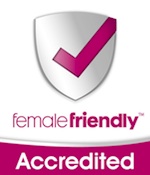 We are proud to be accredited as a Female Friendly organisation.
If you are looking for a Female Friendly plumber in Adelaide, look no further that Seaview Plumbing.
We understand that women make major decisions when it comes to purchases, and that is no different when making decisions around the home. We know there is nothing worse than having someone work in your home, who makes you feel uncomfortable.
As Female Friendly Plumbers we pride ourselves on giving honest advice and treating everyone with respect, especially in their own home. We are here to assist with anything from blocked drains or pipes, to broken hot water systems or a complete bathroom renovation. We offer the same quality and knowledgeable advice for all jobs, and have emergency plumbers in Adelaide for any unexpected plumbing issues.
Read our Testimonials from customers that have been pleased with our work.
If you need any help, give us a call on 1300 634 308.